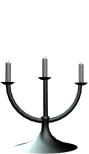 Back to Main Page
Restaurant Reviews
Restaurants in Michigan
The Common Grill
Chelsea

112 S. Main St.
Chelsea, MI 48118
(734) 475-0470
Ambiance:
The town of Chelsea has an old, late 19th- to early 20th-century feel. Every building in the town seems to follow strict
rules to preserve that old-time charm. The Common Grill maintains its old fashioned flare while adding a spark of
modernism. The moment I walked into the restaurant, I was surrounded by beautiful brick walls, and an old, authentic raised
ceiling. Against the brick is a beautifully painted modern-style fresco. The lighting is elegant, yet bright enough to illuminate the
impeccable cleanliness of the establishment.
Entrees:

Because I was with a party of nine, I had the opportunity to hear about several of their dishes, many of which I had the pleasure of sampling:
Pasta Jumbalya: Shrimp, andouille sausage, chicken, peppers, and spinach with fettucine, tossed in a red pepper creole butter sauce. Excellent choice for those with a hunger for cajun-style food.

Smoked Chicken Angel Hair Pasta: Pancetta bacon, red pepper flakes, basil and tossed in a plum tomato-garlic herb sauce. Wow! An extremely flavorful dish with hearty slices of smoked chicken, in a sauce that is sure to tame your taste buds.

Pan Fried Walleye: In a black walnut crust with citrus butter, rice pilaf, and vegetables. A simple, yet tasty, dish. For those in the mood for something on the lighter side.

Potato-Encrusted Lake Superior Whitefish: Served with a tomato leek fondu and sauteéd spinach, with parmesan, lemon and plum tomatoes. A very satisfying dish!

Grilled Black Angus New York Steak: With peppercorn butter, merlot reduction sauce, a potato leek cake, and grilled aspargas. A hearty meal with a unique blend of side dishes that complement the meal well.
Desserts:
Flourless Choclolate Cake: A thick, rich slice of chocolate endulgence, made with absolutely no flour!

Warm Apple, Cranberry Pecan Crisp: Similar to apple pie, but with a cranberry twist, and a pecan crunch.

The Grill's Chocolate Tower: A triple-layered stack of chocolate heaven. A definite winner for chocolate lovers!
Service:
All of the staff that we encountered were friendly, and obviously very well-trained, as our particular server was especially accomodating, professional, and pleasant. The food was served to us in an expeditious manner, which was amazing considering the detail and presentation of each plate.
Interesting Facts and Tips:
*The restaurant has recently remodeled the downstairs banquet area, which can accommodate parties of up to 24 people.
*Check out The Common Grill's own cookbook, created by chef Craig Common. Copies are available for purchase.
*The resaurant is a bit hard to locate, but it can be identified by the distinct capital C in the front window.
*I was told that at times, the restaurant can be quite crowded, so you may want to make a reservation in advance, in order to ensure that you get seated in a timely manner.
Final thought...
All of the people in our party of nine enjoyed themselves thoroughly. Thank you, Common Grill!
Back to Main Page
Back to Restaurants in Michigan
Back to Restaurant Reviews